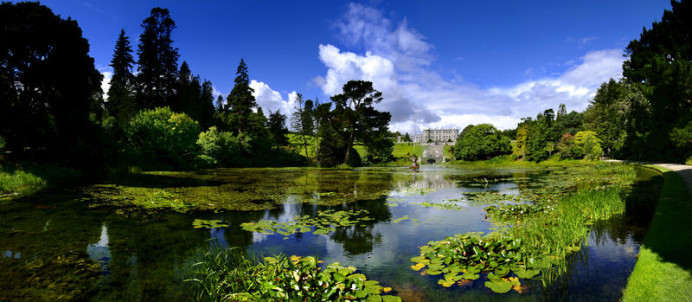 Half Day Powerscourt House & Gardens
Depart from Dublin – you will be travelling South to County Wicklow, otherwise known as 'The Garden of Ireland'.

Powerscourt House & Gardens are about 45 minutes journey from Dublin city centre and are one of the world's most spectacular gardens, they lie 15 miles south of Dublin at the foothills of the Wicklow mountains. The house and gardens were commissioned in the 1730's by Richard Wingfield, the first Viscount Powerscourt, however, the gardens fell into decline over the years.

The ornamental gardens that you see today were completed in 1875 by the 7th Viscount, who collected urns, wrought iron gates and statues from his travels in Europe.

The gardens are made up of a sublime blend of formal gardens, sweeping terraces, statuary and ornamental lakes with secret hollows and rambling walks and over 200 varieties of trees and shrubs.

The 18th Century Palladian House was gutted by fire in 1974 but it has been restored and now incorporates an innovative shopping experience, terrace café and house exhibition.

Its incomparable beauty makes it a favourite for film locations,  featured in the sequel to 'Gone with the Wind' with Timothy Dalton, 'Far and Away' with Tom Cruise and 'The Count of Monte Cristo' with Jim Calziel.
Journey Time – 40 minutes each way from City Centre
Total time – 4 hours.
This entry was posted on Thursday, October 25th, 2012 at 11:19 am
You can follow any responses to this entry through the RSS 2.0 feed.
Posted in: All Posts, Excursion Half Day