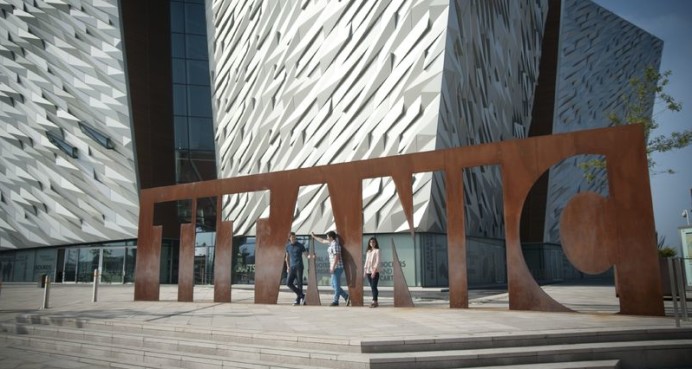 A Day in Belfast
Departing Dublin in the morning for your full day Belfast excursion, we take the M1 route north to Belfast Harbour you will see the Harland and Wolf Dockyards where the HMS Titanic was built. The new visitor's centre – Titanic Belfast opened in April 2012 on the anniversary of the Titanic's ill fated journey. The centre is a brand new iconic building with 8 interactive areas that tell the story of Belfast Shipbuilding as well as the story of Titanic and sister Olympic.

The Titanic Dry Dock is within a short walk from here, you can visit the actual site where Titanic was fitted out to it's elaborate specifications.
  During your trip around Full day Belfast tour, you will see the Falls and the Shankhill areas of the city and hear about the history of these areas. You will see the murals depicting political prisoners important to each community and also the peace wall that was built to divide these areas.
 The tour will also bring you the bustling shopping area of Donegall St. and you will pass City Hall in Donegall Square and then continue on up to the University area –  and see the beautiful Victorian building of Queen's University.
The Botanic Gardens and the Ulster Museum are nearby and you will also pass the 'Golden Mile', the busy stretch of bars and restaurants before returning to Dublin.
 Journey time from Dublin to Belfast is approx. 2 hours each way
Total day trip : 9 hours. Extend your day to 12 hours to give yourselves some extra free time in the city.